I have been busy and I have been working (sometimes). I'm slowly getting closer to finishing the master bedroom project.
And I FINALLY finished the bedside chest for MY side of the bed.

applause, hurray, yippee!
The funny thing about the FINALLY is that I only picked up this piece a month ago. Not so long, really. It's not like I've been lying around the house eating bonbons in a bubble bath - I do work 40 hours a week outside the home. In addition to occassionally doing a little housecleaning, laundry, cooking, shopping, etc....
It just feels like it took a long time because my days would go something like this.
10 am - When I get home I'm FOR SURE going to start working on that chest of drawers
1 pm - When I get home I'm probably going to start working on that chest of drawers
4 pm - I think I'll start on the chest of drawers tomorrow evening, it's been a LONG day
It went like this day after day for about 4 weeks. But this weekend I was DETERMINED to get 'er done! And I did.
I SO wish I had taken a picture of the chest after my Mom and I wedged it carefully into the back seat of my CAR! Or when I removed it from the car and one of the drawers was given to my dear sweet SuperDave in 4 or 5 pieces.
So step number one on this piece was that my husband rebuilt and reinforced the drawers and got them all working again. Then he said that they looked really bad inside and asked if I could paint the inside of the drawers to disguise his handiwork. I have seen several furniture pieces on the internet that were painted on the inside (and loved them) so I grabbed the leftover blue paint from the sewing room furniture project and painted the inside of the drawers blue.
I approached this piece a little differently than the other pieces because every piece you pick up second (or third) hand is made from different materials. This one has plastic feet. So I bought this Valspar spray paint for plastic. And since the sides seemed almost like laminate I decided to prime the entire base with this paint. Then I used a brush to paint with my Sherwin Williams black.
My Mom suggested I leave the laminate (white woodgrain) top on this chest 'as is' for durability so I decided to try that knowing I could always change it later. And not needing to worry about scratching or sitting a cold drink or cup of coffee on the top sounded like a great idea.
I taped off all the parts I didn't want to paint black and primed it with the Valspar spray paint.
Then I removed the paper and tape and painted on some Toasted Marshmallow left over from my french desk. I painted the white around the top edge and on the wood between the drawers. I also accented the trim on the top drawer with the white and removed a little deco piece at the bottom and touched it up a little.
After distressing it just a tad, I put the whole thing back together. You know how much a tad is, right?
We placed it beside the bed and I added my lamp and this awesome tray (which I filled up with all the stuff you don't need to see like chapstick, eyedrops, my phone charger, etc.)
The blue drawers got some blue drawer liner.
The handles were already partially painted white so I just cleaned them and used them that way, to coordinate with the top and the other white accents.
These plastic feet turned out better than I expected.
I'm digging the entire look and here's the best part. I spent $3 or $4 on this one. My Mom had this sitting in a storage building. Most of the paint and the drawer liner was left over from previous projects. I only bought the spray paint.
So now we have bedside chest for both sides of the bed. You can check out the first one here.
This turned out pretty sweet, especially for an old hand me down chest that was falling apart in my Mom's storage shed.
Much Love & Laughter,
Laura
Linking up!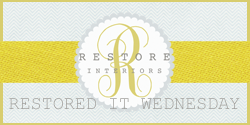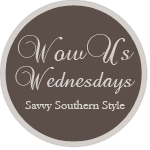 http://cedarhillranch.blogspot.com
http://www.the36thavenue.com/
http://betweennapsontheporch.net
http://southernhospitalityblog.com/thrifty-treasures-8-19-12/
http://www.kammyskorner.com/