Can wallpaper ruin your appetite?
I lived in my new "old" house with 18th Century Reproduction blue toile wallpaper for more than FOUR long years. That wallpaper was sort of weird - it had gardening tools and musical instruments, so I was able to tolerate it (because I appreciate weirdness) while I completed other projects. But in my minds eye - I could see the potential. I HAD A DREAM!
And it wasn't this room
(sorry for the sorry picture, but it just wasn't a room I wanted to take a picture of so much

You can read about the makeover of the chandelier here
One day, I started this project by accident. I saw a little piece of toile wallpaper curling up in the corner and I thought, "I wonder if I pull on this if it will just come right off?" SO I PULLED. And it peeled off and peeled off and then it stopped. So now I had pulled off a big 'ole piece of the wallpaper, and the project was on!
Unfortunately, there was a second layer of paper under the first and in places whole sections of both layers pulled right off easy as pie and in other places it had to be picked off and wet down and picked off again. Oh the joys of wallpaper removal! If my hero, SuperDave and my son, Michael had not helped, I would still be in there picking off wallpaper. But they helped a lot and we got it off so the "FUN" part of the project could start.
Now I've told you about SuperDave and how great he is at everything and it's true. But the man HATES refuses to paint. So painting projects are mostly on me, but he will help with taping, cleaning, electrical issues, etc. And I'm grateful for every bit of that help. He also will pick up dinner and fix me a drink when I collapse in a heap at the end of the day. See why he's my hero?

Layer #1 and Layer #2 of the wallpaper
Are we having fun yet?

Climbing up and down a ladder is great exercise, feel that burn!
Did I mention this was a process?
Did I mention that I have a full time job?
(other than wife, mom, cook, painter and blogger)
Did I tell you that a project like this takes weeks to complete?
because I only have the energy to work on them on the Saturday and Sunday
I started at the top - the ceiling of course! Thankfully, this room already had the popcorn ceiling removed, so it had no texture, it was just painted with flat white.
To highlight the crown moulding I painted the ceiling blue and used a silver glaze. I like to roll on glaze with a sponge roller so some areas are flat and some are shiny. I wasn't 100% happy with the glaze on the day I finished with it, but it's one of those things where no one else can see a problem and after a few days neither can I. I've learned to step back and look at things less critically a few days after completing a project.
Note to self: Painting a twelve foot ceiling is not fun, consider carefully in the future before attempting
The lower wall below the chair rail, I applied a troweled texture and painted dark brown.
The upper wall I left untextured and painted with Valspar Tuscan Accents from Lowe's.
Did I mention that it was all worth it?
It was worth every sore muscle, every bruise, every dollar and living with a mess until it was complete.

Disregard the cats, they really like to sneak into pictures


The two paintings were done by my Mom,
I am thinking of moving them and putting up something different but first I have to find the "something"
 
I made the curtains from tablecloths, read about it
here
Time for dinner! My appetite is healthy once again!
Much Love & Laughter,
Laura
Linking up to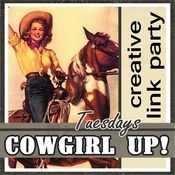 http://cedarhillranch.blogspot.com/
http://thriftydecorchick.blogspot.com/
http://debbie-debbiedoos.com/2012/04/country-french-kitchen-sunflowers-and-roosters.html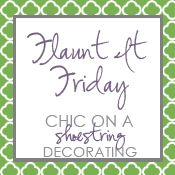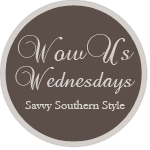 http://www.the36thavenue.com//