A lot of the time I cook a particular dish because something in my kitchen needs used TODAY.
A few days ago I had a big bowl full of fresh pineapple that wasn't going to get used eating it a little at a time with meals. It sounds crazy but sometimes we get so busy we have a difficult time using up the fresh produce before it bites the dust. So much running in and out and grabbing easy fruit like apples and bananas that don't require a bowl and fork. Wasting produce is unacceptable so I set my mind toward using up the pineapple and of course the first thing that comes to my mind is.....
Pineapple Upside Down Cake - another cake that is good for dessert or breakfast :)
I used a modified recipe from my good old Better Homes and Gardens Cookbook.
Everyone should have this cookbook, especially new cooks, it has a lot of basic recipes.
You know it's gonna be good stuff when you start by melting butter in a cast iron skillet.
Then add brown sugar, fruit and nuts. The nuts were my first addition to the recipe.
Then you mix up the batter and spread that over the pineapple.
I added a bit of cinnamon to the batter 'cause cinnamon is awesome.
Bake it to golden crunchy perfection
Cool as long as you can before the family insists on eating it.
We like to serve smother it with whipped cream.
Here's the recipe! Don't forget to add the pecans and cinnamon!
I used Butter Crisco for the shortening.
It's not very thick so I'd call this 4 large servings or 6 small ones.
Maybe the best part is that you serve it warm, only 5 minutes to wait after it comes out of the oven. Or maybe it's the pineapple, the pecans and the cinnamon.
Much Love & Laughter,
Laura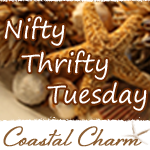 http://linda-coastalcharm.blogspot.com/