Happy Hump Day!
It's Wednesday which means I am looking forward to my mid-week lunch date with SuperDave.
I thought I'd share a Before and After QUICKIE one day project with you.
Here are my beautiful double front doors that make bringing large furniture and appliances into (and out of) the the house so much easier - I highly recommend double doors. Unfortunately these doors were installed in the mid 80s so they have seen better days. If you don't know how much exterior doors cost, do a little research and your eyes will pop out.
I REALLY wanted to strip ALL the paint off the door and stain and varnish them, but I could not do that project without MAJOR assistance from my hero of a husband or hiring a contractor. So once again I chose an inexpensive fix that would make me happy and I could do almost by myself.
BEFORE
So a good cleaning, a couple coats of paint and a metallic glaze and now I can live with these doors for a good long while (unless I win the lottery or something) then I'd install something more energy efficient and beautiful. I used the same paint technique on the mirror frame in my master bathroom, check it out here.

AFTER :)
Did I mention new hardware installed by my hero, SuperDave? That really completes the look.
My dream doors look something like this - and includes the view of the ocean.

~ DREAM ~
Linking up to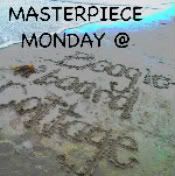 Live, Love, Laugh,
Laura