It's an interesting a long story about how this dresser came to my house. After looking for a while on our local craigslist for a dresser and missing out every time, I started looking at craigslist in other cities - where we have family. I figured I could get a dresser long distance if really necessary. Sure enough before long I found a dresser in another state. Although I hated to ask my brother (since he's the busiest person I know) I pulled the pretty please sister card and he picked up this dresser for me and stored it at his house until I could pick it up. Thanks bro!
The only reason this dresser was still available was because the top is laminate and other people didn't buy it because (they said) it couldn't be painted. Now that's not true, I have painted a laminate top, but in this case, I planned for the dresser to be black and stained wood, so it worked for me to leave the top the way it came.
Since it was in good condition and we didn't have room for it in the garage, we put it right into our bedroom when we brought it home.
I decided to paint it to more or less match the
chest of drawers
we had gotten earlier this year.
I mixed up my own chalk paint
1/2 cup of plaster of paris
1/2 cup of water
2 cups of paint
I put down a drop cloth (actually a piece of an old $1 birthday party tablecloth)
Then I started painting. (when I was done I had a lot of leftover paint and that led to the Kitchen Island Paint Job)
OH MY! This is the first piece of furniture I've painted that didn't need work BEFORE I started painting. I know now why everyone is SO in love with chalk paint! I was having a great time before - but this is even better. It was SO fast and easy since I was painting a piece of furniture that didn't need any other work done!
OK, I probably should remove the handles and shine 'em up. But I didn't have to sand it and my hero husband didn't have to repair this piece.
I would love it if half of my dresser wasn't a TV stand, but it is what it is and that's not going to change.

Disregard the paper coasters under the feet, we accidently got black paint on the carpet with a previous piece
I applied one coat of chalk paint and then a second coat of the paint without mixing anything into it. I used Sherwin Williams low sheen black. I applied a light coat of Minwax paste wax over the paint.
I wasn't looking for a dresser with a mirror, but this one came with a mirror.
Do you like how the patio umbrella looks like a big spider web?
I knew we couldn't put the mirror on the dresser the way it was originally mounted because it would reflect the back of the TV. So I had SuperDave mount the mirror to one side turned with the narrow sides up and down.

I knew if we didn't like it this way we can always remove the mirror. I haven't made up my mind yet. What do you think?

That lingerie chest in the photo above is the last piece in the master bedroom that I will need to paint. I'm trying to decide on a color. Gray? Red? White with black accents? I don't have time to paint it for a while so I can think about that for a while.
That's the latest chapter in the master bedroom furniture makeover, I'm almost done!
Much Love & Laughter,
Laura
Linking up!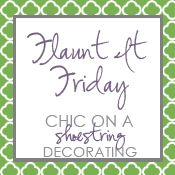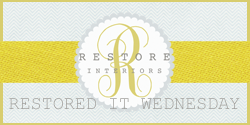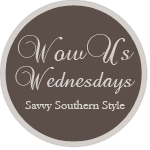 h
ttp://www.kammyskorner.com/
http://betweennapsontheporch.net
http://southernhospitalityblog.com/thrifty-treasures-8-19-12/