I'm taking a little vacation so this will be my last post for over a week. I plan to do a lot of relaxing and won't even see a computer while I'm away. But in the midst of all the preparations I thought I would share a few more Halloween decorations.
Along with the movie/book/theatre themed decor I should you earlier I scattered a few Fall and Halloween Decorations here and there throughout the house.
The mantle - I put a collection of items up here including this wonderful bucket jack-o-lantern I picked up at Ross for way less than I've seen it for elsewhere. The set of four bottles came from Marshall's and joined some I already had around the house.
I picked these candles up at the thrift store and they were perfect for this candle holder I already had and usually only set out for Christmas.
I found some printable labels on the Internet and made some "interesting" bottles of my own. Love this sign I also picked up at a discount store!
The Kitchen Window which was difficult to photograph got a few items on hand and a couple new thrift store items. The NEW dish towel was $1!
These wood letters that spell BOO were also $1 at the thrift store.
The "BOO letters" white when I bought them. Why would BOO be white? Made NO sense to me, so I painted and glittered them. They look much better in sparkly black!
These candle holders were another thrift store find. I had the small pumpkins and the metal tea light holder came from Ross. (they have super low prices on pumpkins, it's practically a pumpkin patch)
The Dining Room Table got a Fall arrangement without any spookiness at all,
unless you count the black ceramics.
(which includes a Frankhoma Pottery sugar bowl and creamer found at the thrift store)
It can stay this way until after Thanksgiving.
I will miss reading all my blogs while I'm on vacation - unless I can figure out how to get them on my Kindle - I think that is possible - but the pictures wouldn't come out too great.
I expect FALL weather when I return, time for summer to go away.
Happy Fall Y'All!
Laura
People I Party With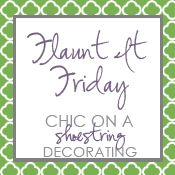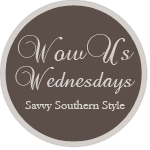 http://betweennapsontheporch.net
http://southernhospitalityblog.com