When I posted by first blog in January of this year I had no idea what I was doing.
And there is still so much about creating a blog that I don't know.
I wish I had more time to blog, read other blogs and link up to parties so more people could find my blog. But even with limited time and skills I'm still having a LOT OF FUN!
I feel like I've made some great friends out there in the Wide World of Blogging.
I LOVE reading the comments and looking at stats to see all the places people are stopping by from literally all over the globe. I've had less than 10,000 views on my blog but the readers are from everywhere! I find that so exciting and I am grateful to each and every one of you!
Today I've been featured for the FIRST time (applause) on the Newbie Spotlight of the Week at Refresh Restyle . Thanks so much for choosing me! I'm a little blinded by the spotlight, but I'm going to slip on my shades and enjoy the attention for a little while!
The full posts chosen for for the spotlight can be viewed here and here.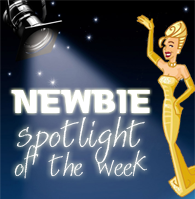 Maybe someday I'll be able to focus more time and attention on my blog, but for today....
I'm a full time
Wife
Mother
Mother-in-Law
Grand Lala
Sister
Daughter
Friend
Employee
List Maker
I'm a part time
Blogger
Bargain Hunter
Decorator
Gardener
Reader
Traveler
Cook
Housekeeper
Personal shopper (for my family!)
Laundry Maid
And I'm doing them all with much Love & Laughter,
Laura