Before entering the wide world of blogging I had - believe it or not - never heard of chalk painting furniture. I really wanted to try it because I had refinished (stripped and varnished) exactly ONE piece of furniture in my life and swore never to do that again - YUCK!
A while back I ran across a post describing the makeover of this hexagon table.
That's a cool table! It was my INSPIRATION!

Also, cool - I have a hexagon table tossed into the corner of a guest bedroom.
Not so cool - I made it over with map wallpaper a bazillion years ago for my son's bedroom and when he left home I tossed it in an unoccupied bedroom and left it looking like this.
Let this be proof that I'm no stranger to repurposing a piece of old rejected furniture.
In this case I'm going to make it over the second time. Since I already had this little table I figured it's a good candidate for my first chalk paint project. If I mess it up - no big deal.
I removed the old wallpaper, washed it down, removed the hardware and taped off the slate top. I sanded it lightly all over. Part of the the table it real wood and part is laminate. I'm guessing there was some molded decorative plastic on this at some point, but if I remember correctly it came to me like this. My table doesn't have the detail like my inspiration table or the cute legs. But it's free since it was already sitting in the corner.
I made my own chalk paint by adding plaster of paris to my paint and I applied three coats. It's called Toasted Marshmallow but it is REALLY white. It darkened a little when i waxed it, but I think next time I will choose a less bright white.
I distressed the edges. I got a little more paint off in some places than I meant to when the table was on it's side on the rough surface of my patio. Oops! And of course that area was in the front! I learned to be a little more careful next time.
I don't like to paint good quality hardware so had planned to leave the knobs as is with a just a good cleaning. But they didn't clean up very well and I was already thinking how good they wood distressed with that flower in the center. So I painted them and then sanded some of the paint off - I think they turned out well.
I used a Minwax finishing wax and it made the surface nice and smooth.
It is finished? Probably not - I'm considering a french decal and some feet. Anyone know a good source for french furniture decals?
Yeah for chalk paint! It really is easy and fun to repurpose furniture using this method.
Much Love & Laughter,
Laura
http://debbie-debbiedoos.com/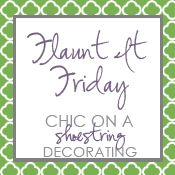 http://chiconashoestringdecorating.blogspot.com/
http://thebrambleberrycottage.blogspot.com/