You hear the word STAYCATION a lot these days. With the economy the way it is and folks rarely, if ever, getting pay increases, more and more people are choosing to to stay home and spend a week vacationing. They are saving on costs by sleeping in their own beds and saving that on high $$ gasoline by visiting local attractions.
My favorite staycation place is out my back door, I can walk right out of my kitchen and I'm there.
Behold - Laura's backyard resort!
Our backyard is not the multi-million dollar dream home outdoor room with a TV, fireplace and outdoor kitchen, but it's pretty nice and we love it.
This photo was taken a couple of years ago and there have been
some
a heckuvalotta changes. Our backyard has been a continual work in progress since we moved into our
new
old house. In fact, if we spent less money on our backyard we could probably leave home more often for vacation. But the backyard is right there - everyday - just waiting for you. And it doesn't require a week off, you can staycation there every weekend and even for a few hours in the evening after work if you can make the time.
It's there on a peaceful spring Saturday morning waiting for you to just come on out with your
cup of coffee and relax. This is one of my favorite times to sit on my patio,
so don't you dare mow your lawn when I'm sipping my java on a weekend morning.

Recent projects include new covers for the cushions
A big DIY project that saved me big dollars

It's there any night the weather is mild for you to talk, eat, drink and laugh
until the wee hours with neighbors and friends.
It's there on a wintery evening with steam rising off the spa and the water warm and bubbly.
And it's there on a summer day when the temperatures soar waiting for you
to do a cannonball into the cool refreshing water.

These beds were recently replanted, the upper bed is so well drained
only desert plants like to live up there

And you can take your pets on the backyard staycation,
Chewie really loves the backyard

This is not from Little Shop of Horrors -
One year my banana trees actually had baby bananas, sadly
it got cold before they had time to grow big and ripen

Weekend visitor - my daughter calls him Bob -
he does not like cats


Our current project
in progress

(Finally Finished!! Take a look

here
)
To have a great backyard staycation spot I think you need the following elements
Privacy - we are fortunate to have a very tall fence and no two story homes next door
Plants, especially plants that smell good
Comfy furniture
A water feature ( I love the soothing sound of running water)
Plenty of shade from the summer sun
Food and drinks
Family and friends
Has your family taken a Staycation? Do you love just hanging out in your backyard?
Much Love & Laughter,
Laura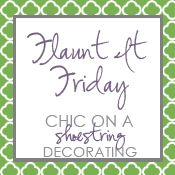 I appreciate and read every comment. I apologize if you have to type in word verification, I've turned it off about 34 times and it keeps resetting.