This project looks small and I only have an after picture, but SuperDave spent quite a lot of time helping me make over this old school desk.
I believe that every room should have a unique element. Something you didn't pick up at a chain store. I know a lot of you agree and that's why you browse junk stores, yard sales and goodwill.
I really wanted an old school desk and I found this one on E-bay and got it for an amazing $50. Now the most important point is that it was local so we could pick it up in person, because shipping would not be an option. The legs are solid cast iron and they weigh a lot!
When we picked up this desk, the wood was painted white and the metal was looking pretty sad.
SuperDave took the desk completely apart. He sanded through most of the white paint - and found a coat of black underneath. He sanded through most of the black paint and he was about to decide it would take forever to remove every little bit of black and white. Then I told him don't take it ALL off - leave a little paint here and there so it's shabby chic. SuperDave is not big on shabby chic. If he's going to do a project he wants it to be darn near perfect! And while I
admire
LOVE that about him, I like things a little rough around the edges sometimes.
I'm not into perfection so much these days - I left that behind when I gave birth to my third child. After the third child I was no longer capable of achieving anything near perfection - so I changed my standards. If you can achieve perfection with three or more children, God Bless You. If you have two or less children - don't you dare judge anyone who has taken on the challenge of parenting three or more offspring! Just sayin'.
Sorry
for the side trip, back to the project. So I convinced him to leave a little paint here and there. After the sanding, we put a clear coat on the wood, added a shiny coat of black spray paint to the legs and then put it back together. My Dad made the wonderful little cedar skids for the bottom of the legs. This added some stability, but it's mostly to protect my floors from the metal feet.
I LOVE the curvy lines of the metal work on my Old School Desk. I'm thinking of E-bay shopping for an ink-well to fit in that little hole.
My Mother-In-Law, a retired teacher, loved our little old desk so much that she wanted one too. I found hers in an antique shop with no work needed. My hero was very happy that I purchased the second desk fully refinished. But if necessary, he would have tackled another one for me and his Mom.
Much Love & Laughter,
Laura
So What Do You Think of That?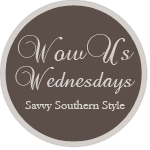 I appreciate and read every comment. I apologize if you have to type in word verification, I've turned it off about 34 times and it keeps resetting.