I signed my hero husband, SuperDave, up for a mini-project in our kitchen over the weekend. He loves it when I do that! wink A mini-project around our house is one that can be completed in one day or less. We've been working on the kitchen off and on since we moved into the house so it's a continual
work in progress.
So this weekend's mini-project was CABINET HARDWARE! I dearly LOVE hardware and light fixtures, they are like the bling bling jewelry for your home. I've been looking at hardware for years and just never made a final decision and brought it home. But I made a final choice this week because I'm gearing up to paint the island black and when that is done I wanted the hardware finished so I didn't have to wait another day for it to be complete.
Back in the 80's home builders came up with some cost savings ideas for cabinets. The first being little slots on the cabinets so you didn't "need" hardware. The second being the switch from stain grade to paint grade wood. Both resulted in huge savings, but sadly also resulted in many people painting over their beautiful stain grade cabinetry to "update" their homes to today's standard. I can't describe my stained cabinets as beautiful because I would never pick an oak stain color. I'm working on a solution to that because I really don't want to paint all the stain grade wood. Stay tuned for my solution.

No hardware - I'm thinking these would be much better with opaque glass panels
 Notice how lighting makes a big difference in the color of the cabinets in these photos. They actually look more like the photo below in person.
Drawer handles were the first step
 
Tools required include a drill, a screwdriver and a Diet Coke


As usual, modifications were required, the screws for the handles
were a little too long so I got to use Big Girl Tools
A little blood was shed on this project - I pinched my hand once,
but it's already healing up nicely

I'm LOVING the bronze hardware with copper showing on the edges,
it matches my new faucet and outlet covers on the backsplash
Also loving the knob set on the diagonal,
diamond shapes are SO much COOLER than squares

The lovely new hardware even makes the old oak colored cabinets look a little better
and my sweetie was glad he could make me so happy with a mini-project
So now I'm just dancing around the kitchen opening drawers and cabinets with my new knobs and handles. Sweet!
Laura
Linking up
http://frommyfrontporchtoyours.blogspot.com/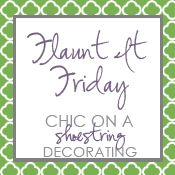 http://abowlfulloflemons.blogspot.com/